François-Joël Thiollier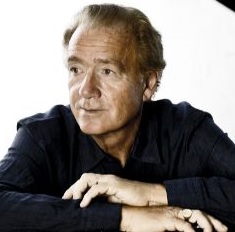 François-Joël Thiollier is one of today's most complete pianists and musicians. Franco-American by birth he has assimilated the best of several cultures: born in Paris, he played his first concert at the age of five in New York. As a child, he studied in France with Robert Casadesus and distinguished teachers of the Paris Conservatoire. Subsequently, he studied with Sascha Gorodnitzki at the Juilliard School of Music where he obtained both Bachelor's and Master's degrees at the record ages of eighteen and nineteen; with top honors and awards in all subjects, both academic and musical.
François-Joël Thiollier went on to win eight "Grands Prix" in international piano competitions, notably the Brussels Queen Elizabeth and the Moscow Tchaikowsky Prizes.
Thiollier's enormous repertoire (80 concerti), his exceptional musical culture and his extraordinary pianistic command are the key to his international success. He now concertizes in over 40 countries with the leading orchestras, such as the Moscow and Leningrad Philharmonic, the Amsterdam Concertgebouw, the Hague Residentie Orkest, l'Orchestre de Paris, l'Orchestre National de France, l'Orchestre Philharmonique, the Italian Rai, the Berlin Symphony Orchestra etc. He played in famous concert halls, among which the Théâtre des Champs-Elysées and Salle Pleyel in Paris, the Teatro Real and the New Auditorium in Madrid, the Victoria Hall in Geneva, the Accademia Santa Cecilia in Rome, the Milan Scala, the Brussels Palais des Beaux Arts, the Amsterdam Concertgebouw, the Berlin Philharmonie and Konzerthaus, the Sydney Opera House Concert Hall.
Guest of the Berlin Philharmonie, his interpretation of the Busoni Concerto was hailed by the Berliner Morgenpost: «Thiollier, a pianist absolutely beyond compare, stunned and fascinated his audience with his incredible technique, polished elegance, impeccable sensitivity of sonorities and last but not least, consummate unstinting musicianship».
After recording 36 LP's with Scriabin, Liszt, Mozart, Beethoven, Brahms, Romantic Waltzes, etc. Thiollier has now over 40 CD's:
For Thesis-RCA: Rachmaninoff's Complete Piano Works, republished by RCA-BMG.
For Thesis: Rachmaninoff's Second Concerto – Gershwin's Works for Piano, Liszt (3 CDs) – Russian Anthology and Live Recital.
For Kontrapunkt: BUSONI: Piano Concerto.
For Black Horse: a Video cassette « The Viennese Waltz »
For Naxos: Ravel's Complete Piano Works, and Concertos; Falla, Nights in the Gardens of Spain;
D'Indy, Symphony on a French Mountain Air; Fauré, Ballade op. 19; Franck, Symphonic Variations, and « Les Djinns », and, with Maria Kliegel, Saint-Saëns: Works for piano and cello.
For Grave: in Gershwin's centennial (1998) the Complete Piano Works, and Beethoven's very rare and early works.
For Naxos: Debussy: Complete Piano Works. The Volume 5, « Etudes », was hailed by a «Choc de la Musique » from Le Monde de la Musique. The same distinction was given to "Viennese Waltzes » published by Saphir.
For K 617: two world première (Théodore Gouvy: Complete Works for piano and violin, and Max d'Ollone: Fantasy for piano and orchestra) received a «Choc de la Musique » from Le Monde de la Musique and a "Diapason d'or découverte" from the review Diapason.
For Multigram and Venice Channel: in high definition television, two DVDs with Mozart's Kammerkonzerte K. 413, K. 414, K. 449, and Gershwin: Complete piano Works.
For Polymnie he has registered Onslow's Quintet with the Quatuor Monsolo and for P & Y Productions Widor and Saint-Saëns quintets.
François-Joël Thiollier was named "Officier des Arts et Lettres" by the French Ministry of Culture and Communication in 2003.
Website: http://www.fjthiollier.com